Television Series:
Now Airing
Here are the current teaching series now airing on Turning Point Television. Enter your email address in the box below to receive updates about upcoming broadcasts.
Series Updates »
Please enter a valid email address
You've been successfully signed up!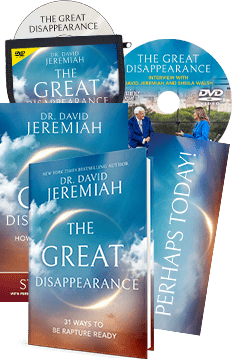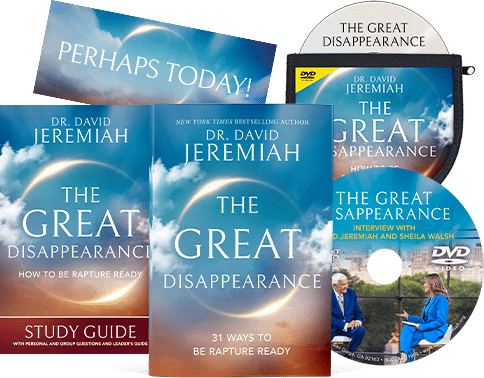 PERFECT FOR PERSONAL OR SMALL GROUP USE
In-Depth Rapture Study
Study Christ's glorious return—known as the Rapture when you request The Great Disappearance set.
In addition to Dr. Jeremiah's latest prophecy book, you'll receive The Great Disappearance study guide filled with lessons of how to live in light of the imminent return of Christ, your choice of CD or DVD message album, and so much more!
Preorder Set Now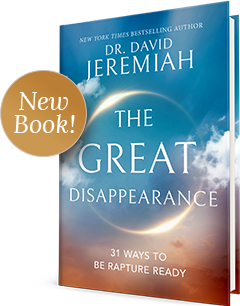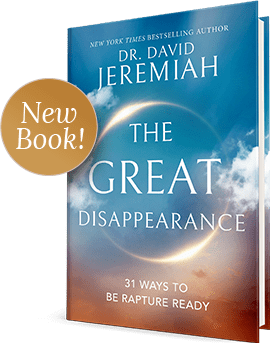 31 Ways to be Rapture Ready
The Great Disappearance
Dr. Jeremiah's latest prophecy book, The Great Disappearance, examines the next event on God's prophetic timetable, the Rapture.
This is not a book of doom and gloom or a sensational read about setting dates, but one of hope and joy as we see the promise of God's plan unfold all around us and grasp the power of the prophetic text surrounding the Rapture.
Preorder Now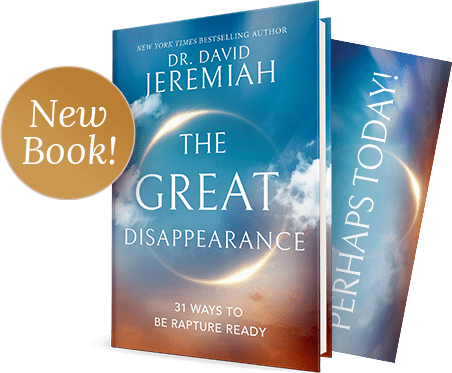 31 Ways to be Rapture Ready
Preorder The Great Disappearance
In Dr. Jeremiah's latest prophecy book, The Great Disappearance: 31 Ways to Be Rapture Ready, he examines the next event on God's prophetic timetable, the Rapture. This is not a book of doom and gloom or a sensational read about setting dates, but one of hope and joy as we see the promise of God's plan unfold all around us and grasp the power of the prophetic text surrounding the Rapture.
Calling this "prophecy motivation," these 31 easy-to-read short chapters will inspire you to live boldly and expectantly in today's world.
When you order The Great Disappearance: 31 Ways to Be Rapture Ready prior to the worldwide release date, you will also receive a bonus gift, Preparing for the Moment Action Guide. In this downloadable resource, Dr. Jeremiah presents ten specific actions the Christian should be taking as we wait for the Lord's return.
View Rapture Pre-Enactment Videos and so Much More!
PERHAPS TODAY
Get ready for an immersive experience with the PERHAPS TODAY Rapture Pre-Enactment videos that delve into the much-anticipated, mysterious event—the Rapture. These films use realistic footage to depict what the sudden disappearance of faithful Christians could look like. Capturing the essence of this prophetic event from God's timeline, as ordinary moments are disrupted by unexpected vanishings. Filmed from various devices, the compelling footage is set to ignite curiosity and kindle discussion.
Rather than a mere spectacle, these videos are a spiritual expedition inviting you to unravel the truth of the Rapture through Scripture. This engaging outreach aims to draw more people to the Gospel's saving message while renewing believers' faith and anticipation for Christ's imminent return. So tune in, engage, and embark on this unique spiritual journey towards the salvation offered only in Jesus Christ.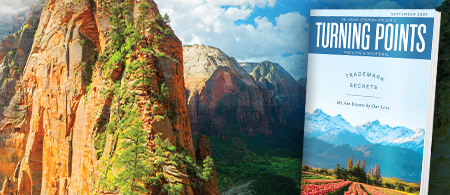 Request Your Free Subscription
Turning Points Magazine & Devotional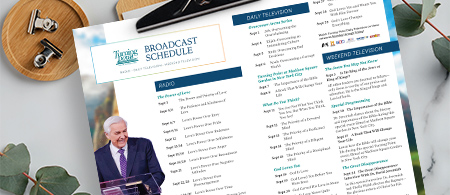 Don't Miss This Month's Teaching Series!
Free Printable Broadcast Schedule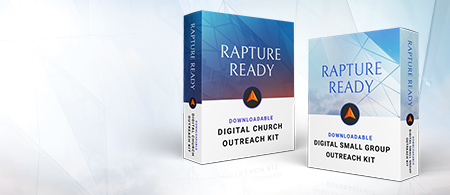 Dr. Jeremiah's Rapture Ready Outreach Offer
Download FREE Digital Church Kit Today!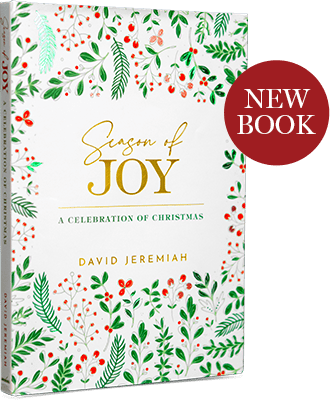 A Celebration of Christmas
Season of Joy by David Jeremiah
New from Dr. David Jeremiah, Season of Joy is a beautifully crafted book designed to help you unearth four transformative paths to a deeper spiritual bond with Jesus.
While Christmas is a treasured time to commemorate the birth of our Savior amidst loved ones, the bustling season often eclipses our joy. Yet, it doesn't have to be that way! This beautiful book, poised to be a holiday staple, offers you uplifting devotionals inspired by Christmas carols, biblical accounts of Jesus' birth, and more. These bits of wisdom will enliven your spirit as you navigate the festive season.
This Christmas, remember the reason for the season and keep Christ at the center of your celebrations. Request your copy of Season of Joy and get ready to be set aglow with the true Light of Christmas this year.
The Unchanging Promises of God
Turning Point Exclusive 2024 Calendar
Turning Point's 2024 calendar—The Unchanging Promises of God—illustrates the unfading, unfailing, relevant, and true assurance of God's enduring Word amidst a rapidly changing culture and increasing political and economic instability.
You'll be encouraged by the rock-solid promises of God's faithfulness, wisdom, blessings, grace, mercy and—best of all—love throughout the year. You'll find peace, renewal, and strength every day as you journey through the certain hope found in Scripture.
Our annual calendar is one of the most popular resources we produce and supplies are limited. Don't wait to order this stunning 14-month calendar today and be reminded daily that God's promises are unchanging in this season and every season to come!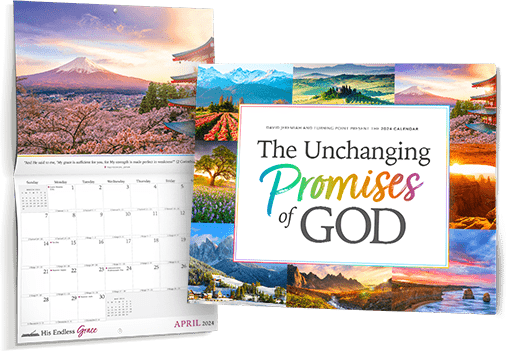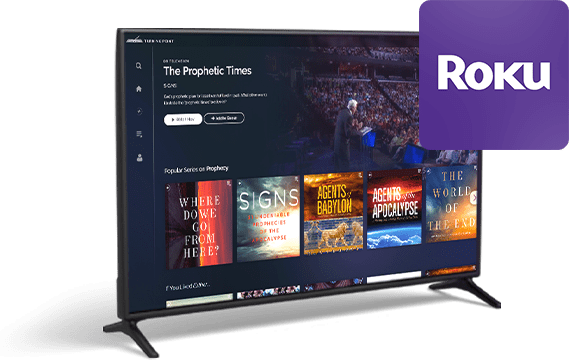 The Convenience You Need, the Content You Want
Access the Turning Point App On Your TV With Roku
Every message from Dr. Jeremiah is aired across the world on Turning Point Television, on our ministry website, and in our official mobile phone app. But did you know…Turning Point Television is also available absolutely free on Roku? No subscription of any kind required! If you have internet access and a Roku Device (or a smart TV), you can watch Dr. Jeremiah's broadcasts absolutely free.
Think of it this way…Our Roku App does the DVRing for you! No need to make sure Turning Point is recording because our Roku App makes it available instantly, for free.
Watch Turning Point from your TV on YOUR time, when YOU want to watch it!
Over 40 Years of Bible Strong Teaching and so much more!
Unexpected: Dealing With the Plot Twists of Life
Celebrate over four decades of Bible Strong teaching with TurningPoint+, your ultimate streaming destination for engaging and enlightening content. Immerse yourself in a vast library of audio and video resources, featuring more than 1,000 teachings—all readily available on your favorite devices.
Explore popular playlists such as "Unexpected: Dealing with the Plot Twists of Life". We all know that life can change in an instant, altering our circumstances without warning. Discover pointed teachings by Dr. Jeremiah on how to react and address difficult days, while drawing reassurance and guidance from God's Word. Your heart will be blessed with the wisdom and comfort that these teachings provide.
With a captivating array of teachings and soul-stirring messages, TurningPoint+ offers unparalleled access to timeless biblical wisdom. Unleash the power of Bible Strong teaching and venture into all the compelling series available to you when you start streaming TurningPoint+ today!
Start Streaming Now!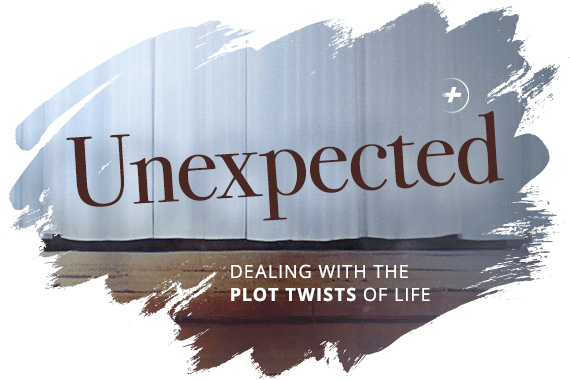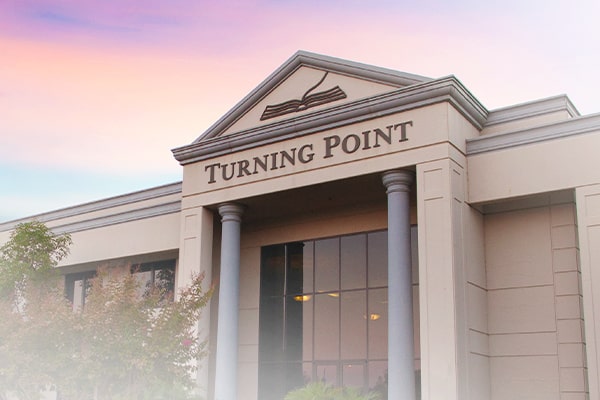 We are so glad you're Here!
Stay Connected to Turning Point
Our mission is to deliver the unchanging Word of God to an ever-changing world, and that has led us to take the Good News and the "Good Teaching" of Jesus Christ across the globe in every way we can think of!
This site is one of the best places to find inspirational Bible teaching from Dr. David Jeremiah, ministry news, and much more. But it's not the only way to stay connected to the ministry of Turning Point.
Discover the many places and ways you can connect to all the rich resources available through the ministry of Turning Point.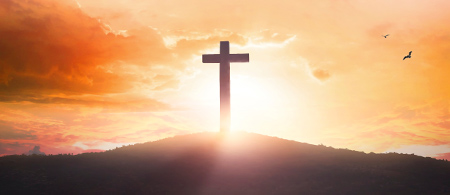 Do You Know God...Really?
How to Become a Christian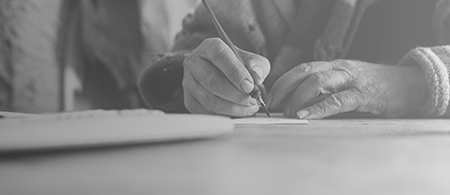 We Want to Hear From You!
Share Your Story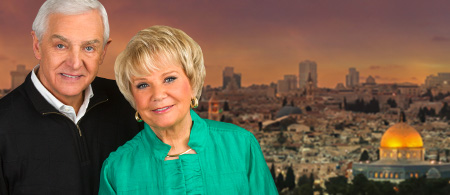 Join Us For an Inspirational Vacation
Travel With Turning Point
Online Vacation Bible School Starts July 3
Airship Genesis Summer Blast!
Join Airship Genesis for a free five-week VBS program this summer. Each week you will find an exciting audio adventure featuring the Genesis Exploration Squad, a Bible lesson, a memory verse, a challenge, fun activities, and more. Your kids can learn about the importance of the Bible in their lives through five separate lessons:
The Bible gives us direction for all of life's adventures!
The Bible was written just for us by God!
The Bible is powerful for any situation.
The Bible should be shared with others.
God rewards us for living by the Bible.
Don't miss Summer Blast! The adventure begins on July 3.